The 2020 Sand Crab Classic is on March 14th!
The annual Sand Crab Classic Perch Derby is right around the corner!
While registration for the Derby itself is currently full, we hope folks will join us on March 14th for a great dinner, raffle/auction and some fish stories. This is a great chance to support MBSTP and get a handle on the wonderful experience of local families hitting the beaches to do some perch fishing.
Thanks everyone who signed up for this year's derby- Tight lines!
Salmonid Restoration Federation
Conference in Santa Cruz 
March 31-April 3, 2020 
This annual conference is an important summit of California's leading salmon and steelhead scientists, and it is being held in Santa Cruz this year! The event will include science presentations, workshops and field tours. There will be a tour of the Scott Creek Watershed to highlight ongoing conservation efforts by MBSTP and partner agencies for Central California Coast coho salmon and steelhead. This is a great chance to learn more about the threats facing our local salmon & steelhead, and all of the great work MBSTP is doing to help- we hope to see you there!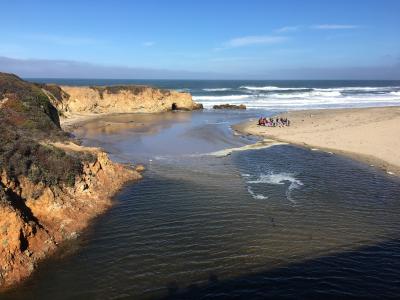 What: 38th Annual Salmonid Restoration Federation Meeting
When: March 31 – April 3, 2020
Where: Cocoanut Grove, 400 Beach St., Santa Cruz, CA
For more information, please visit the SRF website at: 
https://www.calsalmon.org/conferences/38th-annual-salmonid-restoration-conference